The sales of plant-based products with an array of choices have experienced fast growth throughout the world, particularly in North America and Europe. The enthusiasm of consumers for this new market synonymous with ecology, global awareness and a desire for naturalness is strong. In 2021, the functional dairy market accounted for more than a third of plant-based sales. (1)
Ecological awareness for a sustainable approach
The consumption of plant-based alternatives stems from the search for a more environmentally friendly and sustainable diet in light of demographic challenges and resource shortages. Moreover, consumers are looking for new features in their food choices, notably healthier products, containing non-animal proteins and associated with health benefits (e.g. high fiber content, low fat).

According to Bloomberg Intelligence, the global market for plant-based alternatives would reach more than $162 billion by 2030 (2) and could account for as much as 7.7% of the global protein market. This food trend is destined to be long lasting based on the growing number of industrial options of plant-based products and the variety of the offer which generates habits among consumers, who are increasingly concerned about their health and the environment.
In addition, the health crisis and the awareness of global warming also play a role in this approach. The proliferation of plant-based alternatives is attracting many customers, who are changing their consumption habits and are turning to naturalness and simplicity.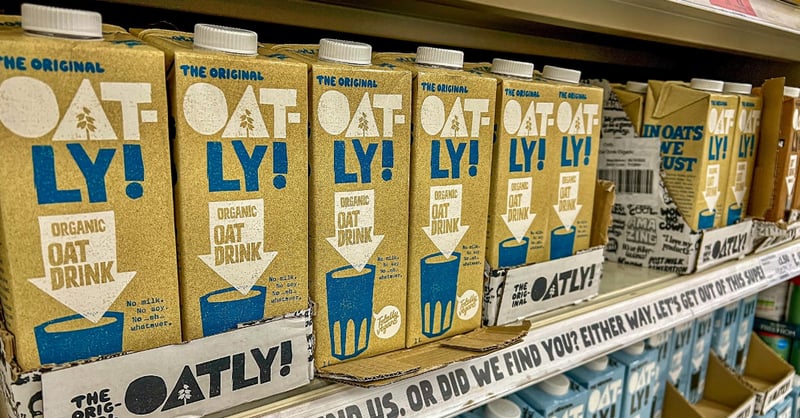 Plant-based beverages account for 70% of all plant-based products in Europe (3), with soy milk and oats experiencing substantial growing (45% growth worldwide between 2020 and 2021, compared with 3.4% for soy) (4). The potential of oat-based beverages is in fact due to consumer interest in vegetarianism, sustainable development, animal welfare and health, particularly in relation to lactose. In 2022, France should reach 400 million euros on the sale of plant alternatives.

According to statistics from Mintel GNPD (Global New Product Database) the growth of "ethical" and "environmental" claims is well represented in the main European markets. The Ecological and ethical claims are similar to those of the new key products launched in this country, mainly centered on eco-responsible packaging (5).

Consumers want in the following order of priority: products with environmentally friendly packaging, derived from sustainable resources, while promoting recycling, but also ethical products which respect the environment, based on carbon neutrality and without animal suffering.
New consumption choices: less animal protein, health and plant options
The consumption of animal proteins in France has dropped by 5% in ten years. 24% of consumers say they are flexitarians and want to eat less meat, which is also more expensive (6). In order to double the surface area of plant proteins by 2030, the French government has, for example, set up a national strategy in 2020 to promote their development through funding 100 million euros (7). "France's protein autonomy is a crucial issue, as it also makes it possible to meet the major environmental, climatic, economic and nutritional challenges of the decade" (8). European member states call for joint action (9).

Added to these ecological aspects is the desire to avoid the health disadvantages of lactose.

Among the most important factors for plant-based products, taste and texture cannot be compromised. The main barriers to plant-based beverages are taste on the one hand and price on the other, which can be perceived as higher than that of conventional dairy products. Indeed, 62% of consumers believe that the taste could be improved in milk and 37% in yoghurts (10).
Benefits of botanical products and plants most represented in this market segment
To strengthen their positioning, plant-based products need to focus on improving flavour, taste and texture to create more gourmet propositions and encourage re-purchasing. To this end, ingredient quality is key to successful innovations.

Regarding nutrient density and functionality, the focus is on the benefits of botanical products. The nutritional content of their ingredients, as natural sources of fiber and protein, offers broad benefits for health, nutrition and well-being. In China 47% of adults are looking for high-protein botanical drinks.

Popular herbs such as ginger, cinnamon or turmeric attract consumers looking for products targeting digestive comfort and immunity (11).

Over the last five years on the plant alternative milk market, the most represented botanical ingredients are quite similar and include vanilla (13%), tumeric curcuma (4.2%), cinnamon (3.5%), ginger (2.4%), hemp (2.2%), and hibiscus (0.5%) (12):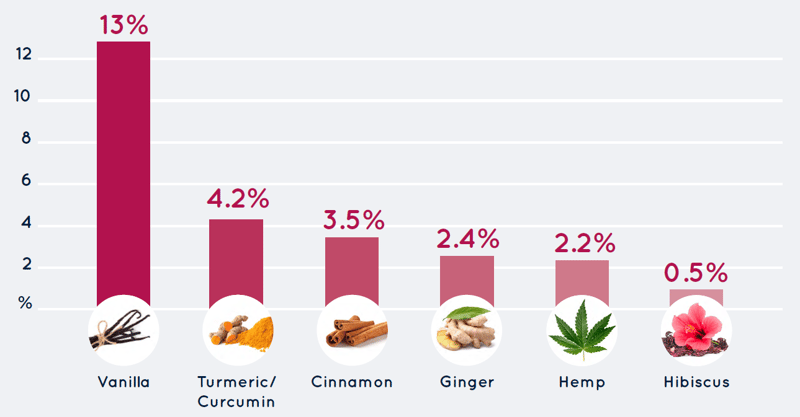 Please feel free to contact us.
To see our entire product range, check out our online catalogue available 24 HOURS A DAY 7 DAYS A WEEK.
Sources :
(1) Euromonitor International, 2021
(2) Plant-based food poised for explosive growth Bloomberg Intelligence, août 2021
(3) Euromonitor, 2021
(4) Euromonitor, 2021
(5) Mintel GNPD, June 2016-May-2021
(6) Innova food, 6France Agri Mer, Synthèse conjoncturelle, juillet 2022. 7Xerfi. 8France AgriMer «Végétariens et fléxitariens en France en 2020», 2021.
(7) https://www.processalimentaire.com/ingredients/reactions-contrastees-autour-de-la-strategie-proteines-vegetales
(8) http://www.proteinesfrance.fr/sites/default/files/2021-02/021220_cp_strategie-proteines-vegetales_version_finale.pdf
(9) https://www.euractiv.fr/section/agriculture-alimentation/news/les-etats-membres-appellent-a-une-strategie-europeenne-unifiee-en-matiere-de-proteines-vegetales/
(10) Mintel GNPD, Dairy Trends in 2021
(11) Nutritional content of selected plant based milks compared to dairy milk. MyFitnessPal
(12) Kantar Profiles/Mintel, 2021