Natural Origins botanical powders are now processed near Valence (France), at our brand new Ardèche site, which houses our quality laboratories, R&D centre and production facilities. As such, we benefit from the close proximity of local aromatic and medicinal botanicals (from the Drôme and Ardèche regions) while optimising our competitiveness and efficiency.
The different transformation phases of botanicals
1. Sourcing
Right from the sourcing stage, Natural Origins takes into account the (in-house or customer) specifications required to find the right conventional or organic raw materials to produce optimised botanical powders. These powders meet the expectations of nutraceutical professionals, whether in terms of:
taste

colour

texture and/or health claims
by selecting suppliers who meet the criteria of our purchasing charter.
2. Analyses
The second phase consists of carrying out physical and chemical analyses according to the specifications set out in our technical data sheet. This includes:
testing for the presence of active ingredients,

contaminants,

pesticides, etc.
or for example, validating food safety.
3. Process
Thirdly, the transformation process involves the:
Import the batch of the selected botanical from the cultivation origin of
Quarantine the batch received on our premises
Take a representative sample to send to the customer(s) and archive it in our laboratory
Disinsectise if sensitive botanical ingredients are identified
Put products in stock and/or put them through the transformation process
Sort by gravimetry if necessary (stems, stones, etc.)
Cut, grind and sieve to standard 300 micron powders and Optifines < 100 microns
Heat treatment if deemed necessary
Check the granulometry of the powder obtained in the laboratory and carry out microbiological analysis
Put the powder in paper bags/polyethylene food grade (20kg)
Put processed raw materials in stock
Store our powders in specially adapted premises
Download our infographic: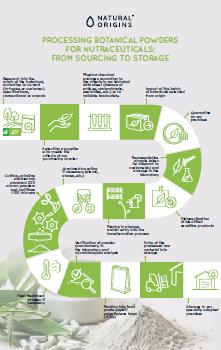 4. Advantages
Managing the entire value chain for our organic and conventional botanical powders provides the following benefits:
Complete traceability

Unique botanical sourcing, such as French botanicals (PPAM)

A high performing production site in the South of France

A carefully reasoned ecological impact: the manufacturing process for our botanical powders uses very little energy and is carried out without solvents or chemical substances (purely physical treatment).
The result is 100% natural, pure and Clean Label powders, rich in phytoactives and nutrients such as vitamins, minerals and fibre. The botanical integrity of the plant is preserved, as no additives or carriers are added, and the health benefits are based solely on the biological properties of the botanical.

300 micron powders for nutraceutical and agro-food applications
5. Products
Natural Origins supports you at every stage of your nutraceutical development, ensuring that your final product has the optimum qualities for your consumers. We offer you a wide range of botanical powders made from rigorously selected plants and processed using our secure, entirely controlled process.

In our catalogue of ORGANIC powders, you'll find some of the most popular botanicals on the nutraceutical market, such as ginkgo biloba, St John's wort, milk thistle, turmeric, harpagophytum, guarana, hawthorn, konjac, artichoke, nettle, horsetail, ginseng, etc.

The strengths of the powders developed by Natural Origins lie in the excellence of our ingredient sourcing, the assurance of traceability from field to finished product and complete control of the production chain. Our powders for your nutraceutical formulations are transparent, safe and 100% natural solutions.
Please feel free to contact us.
To see our entire product range, check out our online catalogue available 24 HOURS A DAY 7 DAYS A WEEK.