In order to respond to the popularity of spirits and beer, Natural Origins renews its commitment to its historical agricultural supply chains (organic, For Life and conventional) and starts new developments of botanical ingredients based on its extraction site in Soyons (Ardèche - France). The combination of its high quality sourcing and our new technologies allow us to accompany a dynamic market acclaimed by consumers in search of authentic flavours.

Discover Botanical Studio®, our applications laboratory where you will be accompanied by our experts in creating unique ingredients adapted to the requirements of your projects involving 0.0 beverages, beer and spirits.


Natural Origins: historical supply chains
Natural Origins is backed by historical experience in terms of sourcing for the spirits and beer markets. For the past 25 years, the company travels the world to find the best plants, to set up sustainable procurement supply chains and discover original terroirs. As such, we develop supply chain marketing allowing you to value several criteria including the quality of conventional or organic ingredients, the human dimension with fair trade, along with the geographical aspect with this notion of terroir.

This supply chain marketing is very much an added value for emphasising your end products with a selection of the best partners (an ethical approach, longterm commitment and reliability, audits, positive impact on the environment), accompanying measures on good growing, harvest, processing and storage, pre-financing, quality control practices.
Traceability and supply chain security
Through every step of production, we guarantee the quality of our plant raw materials to be incorporated in your formulations. We ensure the security of our procurement supply chain from the crops to the delivery of our raw materials. Our mastery of the entire supply chain, based on the fruit of upstream work, provides information on the monitoring of the production of this botanical ingredient.
For Life
This labelling is a way of acknowledging the commitment in terms of corporate social responsibility (CSE) including the setting up of a responsible sourcing policy [1].
This commitment particularly concerns:
the challenges of sustainable development with the evaluation of environmental responsibility,
social engagement,
the impact on local employment
and the respect to consumers.

Natural Origins is monitored annually by Ecocert in order to guarantee that the rules related to the CSE are respected in compliance with certifications.

The For Life label can also be applied to the product itself. In this case, monitoring of the entire procurement supply chain by a third party is set up in order to cerify that CSE conditions are fulfilled [1].

Natural Origins was audited and certified in 2020 based on monitoring procedures of the complementary module of the For Life product certification and social responsibility as a merchant middleman.

Performance reached 85.3% compared to 81.4% in 2019 and 5 leaves, that being the highest For Life certification [2].

The following arroved products include:
A responsible and ethical approach
Our hard work and our hand in hand collaboration with all our supply chain stakeholders, whether the producers or the employees of local farmers, allows us to continue the story started over 2 decades ago.

Since its creation, Natural Origins develops strong solidarity-based partnerships. Partners committed in our supply chains are selected for their knowledge of the specific nature of plants, their ancestral know-how and their expertise in the field.

With sustainability and the longlasting resources based on relations established, Natural Origins ensures respecting populations and the environment. This responsible and ethical approach promotes reciprocal growth, based on permanent income and fair collaborations.

Respecting good farming practices and harvesting our plant ingredients is challenging: working in close collaboration with local solidarity-based cooperatives, with small farmers using traditional farming methods, including for example sun drying certain plants or hand picking plants. Our commitment with our producers and long-lasting supply chains also involves setting up long term contracts backed by a specific accompaniment.
How our raw materials create your storytelling
Traceability, organic ingredients, For Life label, local product, atypical terroir…, supply chain marketing is defined by the usage of criterias of your natural ingredients procurement supply chains in order for you to stand out with your end products. Consumers today seeking transparency want to know the composition and the origin of the products they buy. Reinforcing your brand image by adapting an eco-responsible stance with your products based on all the information Natural Origins shares with you.
Inform, educate and reassure

Promoting the sourcing of ingredients with texts, visuals or by inserting pictograms.


Demonstrate through actions

Mention or portray the environment, ethical and social advantages of the procurement supply chain.


Promote

Develop a media kit with Natural Origins to demonstrate the brand's commitment: videos, social networks, blogs, website…

New e-platform Spirits & Beers section
As a "flavour passer", Natural Origins helps you to design plant-based spirits and beer using new ingredients, thus facilitating the successful outcome of your beverage with adapted solutions.
In our new e-platform Spirit & Beers section, Natural Origins proposes aromatic plants for the preparation of your spirits, alcohol-free beer or beverages or with a low degree of alcohol with organic or For Life certifications.
Our plant extracts, bark, roots, berries and powders come from countries throuhout the world: as such you find product references from the Balkans, Brazil, Equator, Spain, four French ingredients and two from Vietnam.
Flavours associated with our botanical ingredients correspond to 6 types of flavours:
citrus fruit flavour with three references,
11 bitter,
four aromatic,
five woody and sweet
and finally 19 references from the spices category.
Our Moroccan coriander, for example, is a spice that you can incorporate into alcoholic beverages. This has the For Life label which reflects the involvement and shared objectives between our partners from Morocco and Natural Origins.
Our wild gentian has a bitter flavour and is from the French mountains and is harvested by hand. This plant is also grown in organic grade and is an ally for your liqueurs and alcoholic creations, and non-alcoholic beer and beverages.
If you moreover want a spicy flavour for your beer, our Vietnamese certified For Life cinnamon is an ideal ingredient. This reference testifies to a two-way approach resulting in jobs for our local partners in Vietnam while securing our crop supply chain up until the delivery while ensuring total traceability.
Among our plant flavours, you can also find citrus aromas with bitter orange or sweet, bitterness with juniper, gentian, cinchona, iris rhizome, rhubarb root and cascarilla bark or quassia chips…
Flavour your beverages with lemongrass leaves or odorous verbena…
Add a woody note with ambrette seeds, Limousin wood cuts, red sandal wood…
Enhance your beverages with spices such as badian, nutmeg, black or Cubeb pepper, clove, ginger, coriander, cinnamon or paradise seed.
To add a gourmet flavour, elderberry, licorice, tonka bean will leave sweet nuances to your strong alcohols with a special mention for sweet blackberry.
The entire range available and references
See below the list of our raw botanical ingredients devoted to spirits & beer, developped, calibrated and made by Natural Origins: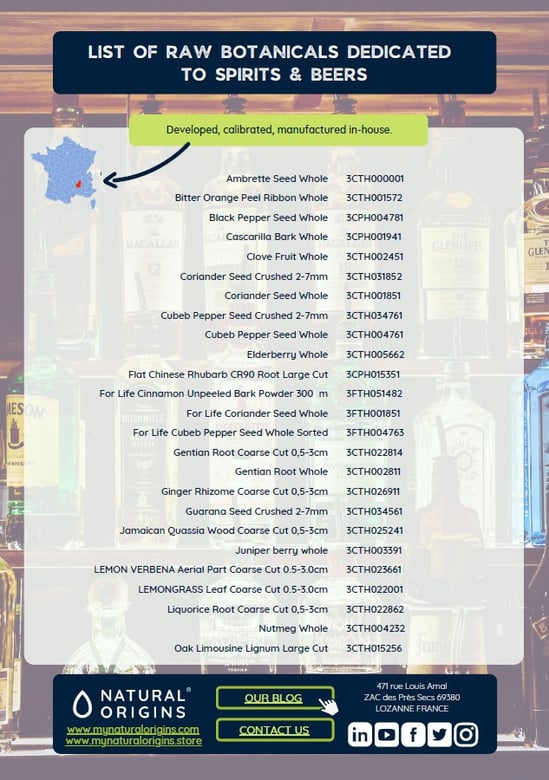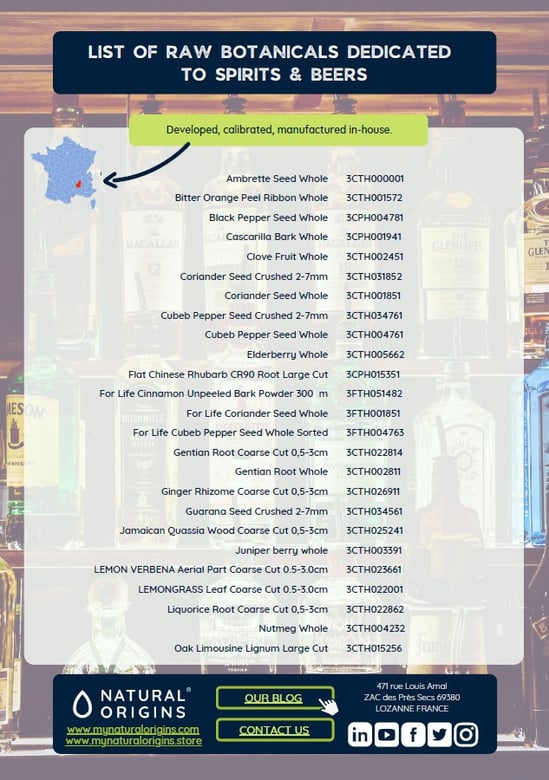 TGE and TGE 0.0:
TGEs are natural extracts which capture the complete aromatic profile of a plant (volatile fraction + principal fraction) by a combination of hydro-distillation / hydroalcoholic extraction and concentration. Formulated in liquid or powder form, it can be applied to all types of formulations and it comes closest to the original plant in terms of taste and low processing. It also enables finding the organoleptic complexity of the raw material. These extracts, processed in-house, come from noble high quality material and are sourced in a controlled manner to fully express their gustatory qualities.

This natural and healthy solution is added in low doses which enables enhancing formulations while repsonding to the great demand for transparency and traceability.

By using TGEs, you opt for naturalness, quality and the geographic origin of the raw materials from which the extracts are derived while projecting yourself in a array of applications offering endless marketing potentials:
Tell the story of your product based on its composition
Draw a universe rich in flavours
Open your creative possibilities…

Below find the list of our Taste Giving Extracts ("taste optimised extracts "):
Lemon leaf PE TGE
Orange leaf PE TGE
Organic green coffee PE TGE
Organic Verbena lemongrass PE TGE
Organic vanilla PE 0.1% Vanillin TGE

With regard to TGE 0.0, you will find Angelica root, coriander and juniper berries. Our lemon and grains of paradise are currently being developed.

Botanical Studio®
Natural Origins has historically positioned itself as a pioneer in creating winning concepts on the natural ingredients market.

We invite you to discover our Botanical Studio® on this theme to accompany you in designing your alcohol free or low alcohol beverages, beer and spirits, which make Natural Origins are real "flavour passer".

In order for you to get the most of your plants, our team of experts is at your disposal to listen to your ambitions for your end products. Based on the advice of our botanical affinados and our applications laboratory, you can successfully carry out your search for high quality ingredients to design your beverages.

Our product range of ingredients for spirits and beer ensures transparent sourcing which will reveal the originality of your brand story.

With our Botanical Studio®, you will be properly guided for your customised beverages and creating innovative concepts with authentic flavours.

Based on our workshops, we help you find specific plants for your specifications (taste, geographical origin, selection of spices, flavour markers) so that your blend provides value to your final beverage. In this sense, Natural Origins provides with its Botanical Studio® suggestions and propositions through scents, aromas and flavours of its natural ingredients which will create a strong identity for your brand.

Botanical Studio® is the solution which guarantees an expertise adapted to each one of your ideas in terms of taste and plants for your alcohol free of low alchol beverages, beer and spirits. The success of your blend involves sharing our experience and being closely accompanied with your projects.
Please feel free to contact us.
To see our entire product range, check out our online catalogue available 24 HOURS A DAY 7 DAYS A WEEK.
Sources :
[1] https://www.fairforlife.org/pmws/indexDOM.php?client_id=fairforlife&page_id=about&lang_iso639=fr
[2] https://www.fairforlife.org/pmws/indexDOM.php?client_id=fairforlife&page_id=certified&lang_iso639=en&company_id=1016